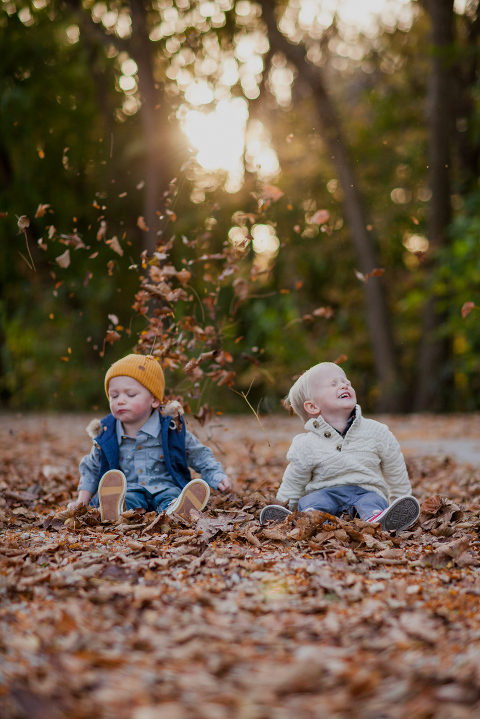 Ah yes… fall leaves.
Kids love them almost as much as they love bubbles.
It's a natural choice to capture some great smiles of your kids… whether it's just for fun with your iPhone or for your holiday card photo.
Here's some tips to make your fall leaf fun most successful for you…
Light.  What will make or break a good fall leaf photo is the light. The autumn light can be harsh as the sun's position changes in the sky. To combat this, it's best to shoot in the hour before sunset or choose a cloudy day.
Clothing.  Leaves are brown, orange, and yellow. In order to be able to see those great expressions of your kiddos the best, their sweet little faces should be the brightest thing in the image. So dress them in solid colors — cool tones, preferably, because of that whole color wheel thing.
Create the perfect spot.  Pick a spot that has many fallen leaves and rake them into a big mound before involving the kids. You may not have a big window to work with them, so it's best to prep ahead.
Make it a game. Depending on the age of your kiddos, they may not have the longest attention span. So instead of telling them you're taking their picture, tell them you want to play a game in the leaves. (which you just happen to be photographing!)
Grab a helper.  Sometimes kids aren't old enough to throw their own leaves. Sometimes it's nice to have a helper behind the scenes to sprinkle leaves and interact with your littles for you, while you do the shooting.
I hope you find these simple tips helpful! Happy shooting.