I've gotten to read a lot of articles on this topic lately and it's inspired me to express my own thoughts on this topic:
how do you choose which images to print?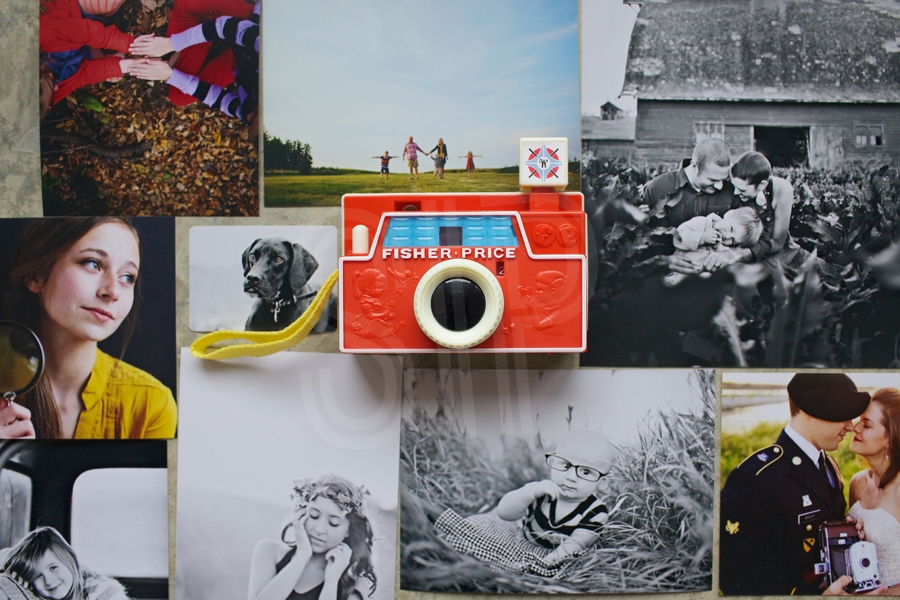 So say you have your family pictures taken and you purchase the permission to obtain your images from some sort of electronic device. You spend hours researching just the right person which whom you can trust to capture your family and you spend even more hours stressing over outfits and worrying how and if the kids will behave; not to mention the money you've spent on getting your hair, nails, etc… done. So after all the time and money you've already invested in the simple act of 'family pictures' it's easy to loose sight of what the end goal is (and it's NOT to keep up with the Jone's on Facebook). The goal is to preserve your family at this exact moment in time and give  your grandchildren something to aww and coo over.  After all, old family pictures become the most valuable things we can have after times of loss.  So what are you going to give your grandchildren? An old shoebox full of CD's, DVD's and memory cards? I know it's the digital era, but there is just something about the show and tell of an actual PRINTED photograph that tells more of a story than a piece of shiny plastic that you need additional equipment to view….. which, let's be honest, will be like trying to find a working VCR. No bueno.
This new generation of child won't have the patience for that.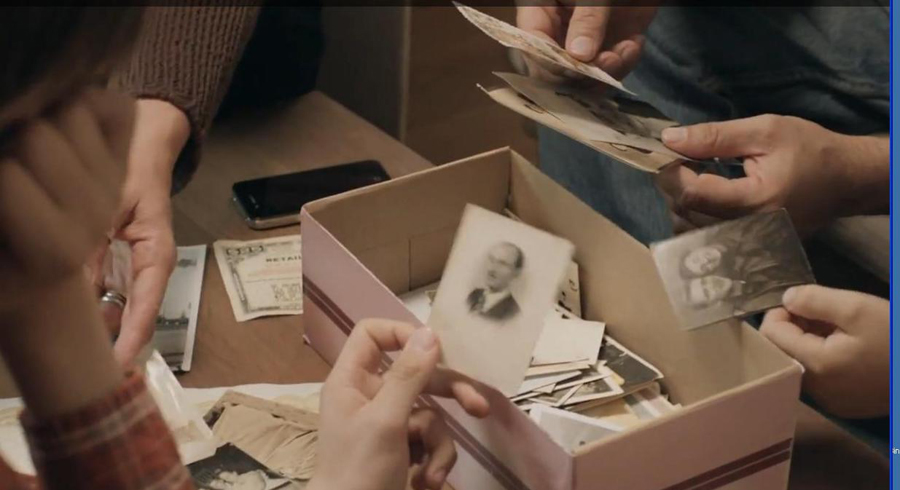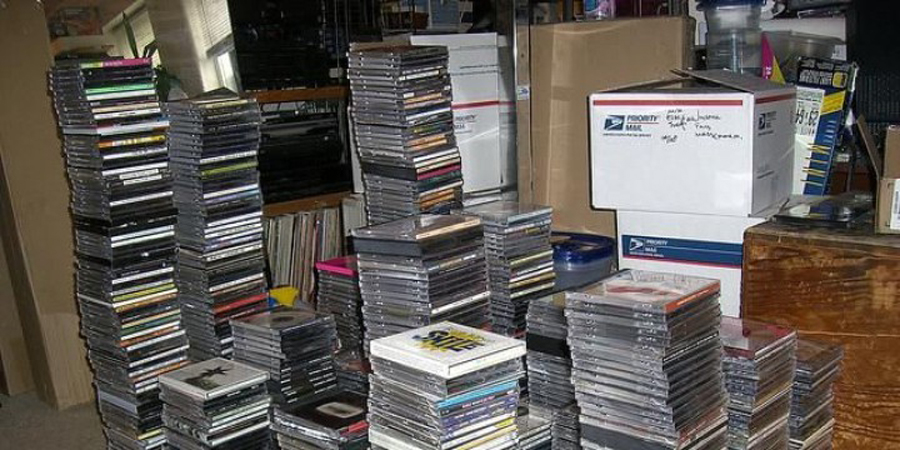 It's not so realistic that the hundreds (thousands) of images you store on a disc will ever be looked at again. Sure, you may have the personal peace of mind that 'at least we had pictures taken… we have them if we need them' but really? in 50 years your mind may leave you and your family won't know squat about where the pictures are, how they're organized, or even that they exist in the dark corners of the basement in that dusty Nike box. So promise me something… if you love your images and you love your children, please print your pictures. Print them larger than an 8×10. Matte them and frame them. Show some care and love to your heirlooms.
To print a photograph says to your children:
 "I matter enough to be printed. To be held."
Have I rambled enough about the importance of a printed photograph yet? If you're answer is 'yes,' then how do you choose which images to print/enlarge?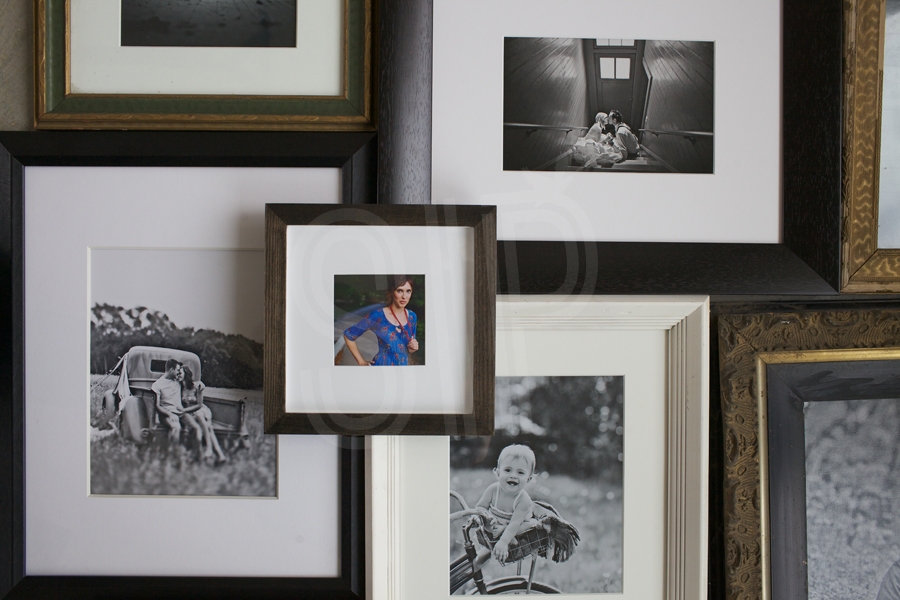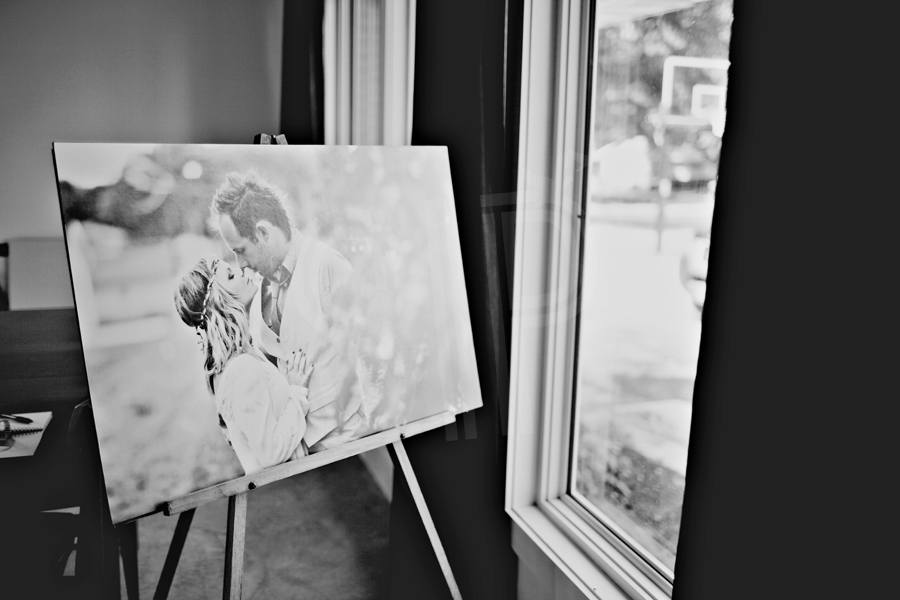 It's no suprise that my work is conducive to collections. My work belongs in a cohesive display in which to tell a story. Therefore, my favorite ways to display my own work (and in my home collections) are in this order:
1. albums


2. eclectic arrangements of printed photographs; some enlarged and some kept small (8×10 and <)
Mind you, Ryan and I have a session every year and what we choose to enlarge and frame is 1 image to add to the collection. The rest we make into a book so they are printed and easily seen whenever we want.
The criteria I have for enlarging:
1. QUALITY.
we always get our pictures taken by a professional photographer who works to maintain consistency in style and quality, so it's never an issue to us. But to those of you who choose economy over quality, make sure you're printing/enlarging images that are 300 dpi and your subjects are adequately lit to have the highest quality print possible.
2. EMOTION.
This is a biggie and should be No. 1, but I'm too lazy to cut and paste to change it. I'm probably not going to choose to enlarge an image where we're looking directly into the camera. I want a memory on the wall and to be honest, we don't spend an awful lot of time staring into cameras. The images on our walls spark a time or a memory to us, so 99.9% of the time, we're 'doing something' in the pic. And one last note on this subject… I think it's OK to have some images printed where everyone's looking and smiling cheerily for the photographer, but I just find it personally creepy if I'm in a room (especially a living room) sitting there minding my own business and a group of people are staring at me; smiling; like it's a permanent sate of being.  And I know it's traditional…. super traditional. It's just my feeling that if you're going to print an image where the subject is looking straight into the camera, it should be an expression that sparks an emotion. shyness, joy, sadness, etc…
not just a generic cheesy grin.
3. COLOR.
it's important to be mindful about what you wear so it goes well with how your house is styled. for example, if we had beige walls and beige furniture, it would be a terrible idea for us to wear beige, as well.
4. SIZE.
This goes with quality. The size that you choose to print depends on a lot of things like the quality of the image you're starting with, the size of your wall, the head size of your subject(s) and how you display (traditionally prints, gallery wrap, matted, etc…). Rule of thumb is to not enlarge your print so big that their head(s) end up being bigger than life-size. For example, you probably wouldn't be a good idea to enlarge a headshot (neck up) any larger than an 11×14 or so (depending on the age of a single child). make sense? There are, of course, exceptions to this rule for art's sake, but again, it's a general rule of thumb.
So some final thoughts on the emotion of an image. Take a long hard look at the pictures on your walls. Do they tell a story? Are they all from the same date in time or are they a cross section of your last decade? your whole life?
Do they make you feel anything when you look at them?
Now choose your favorite printed image displayed in your home.
Why did you choose this one?
Chances are it's because you feel something when you look at it.
I have an instagram, which I blew up to 16×20. It's technically terrible and blurry and maybe you don't even know what it is of. But to me, I see a memory of my Dad and I on the back of his motorcycle going at a high speed through a tunnel on the way to Mount Rushmore. I feel the wind in my hair, the smell of my dad, and feeling of wild freedom.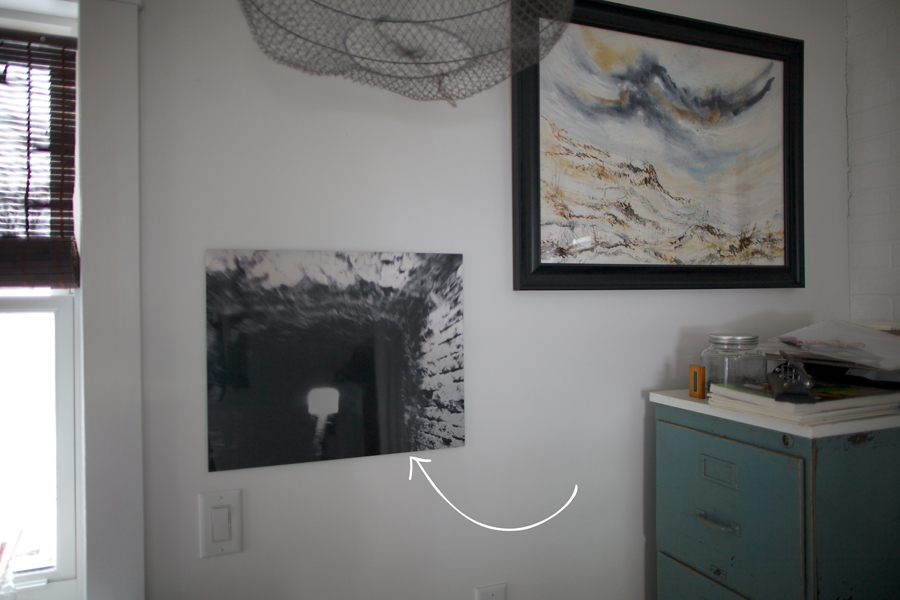 I could have easily chosen THIS one instead, naturally, but we're looking into the camera like idiots. no artistry. no emotion.


To reference a portrait I have on our living room wall, this one is of my mom and mine's feet in the sand.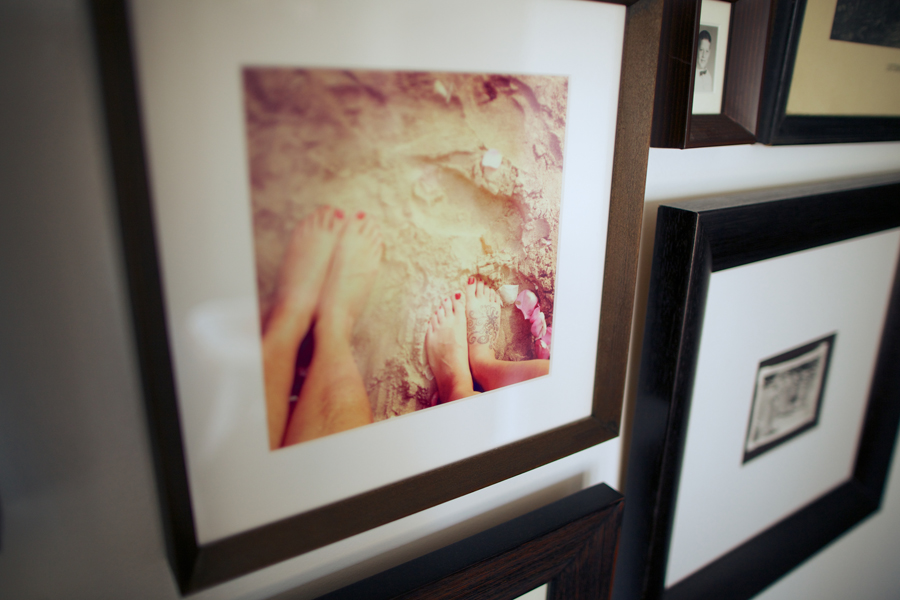 It was taken at my Cousin's wedding in California. It was the most beautiful, perfect beach wedding you could ever imagine. I could've easily chosen this picture to frame, which is what I see in most people's homes: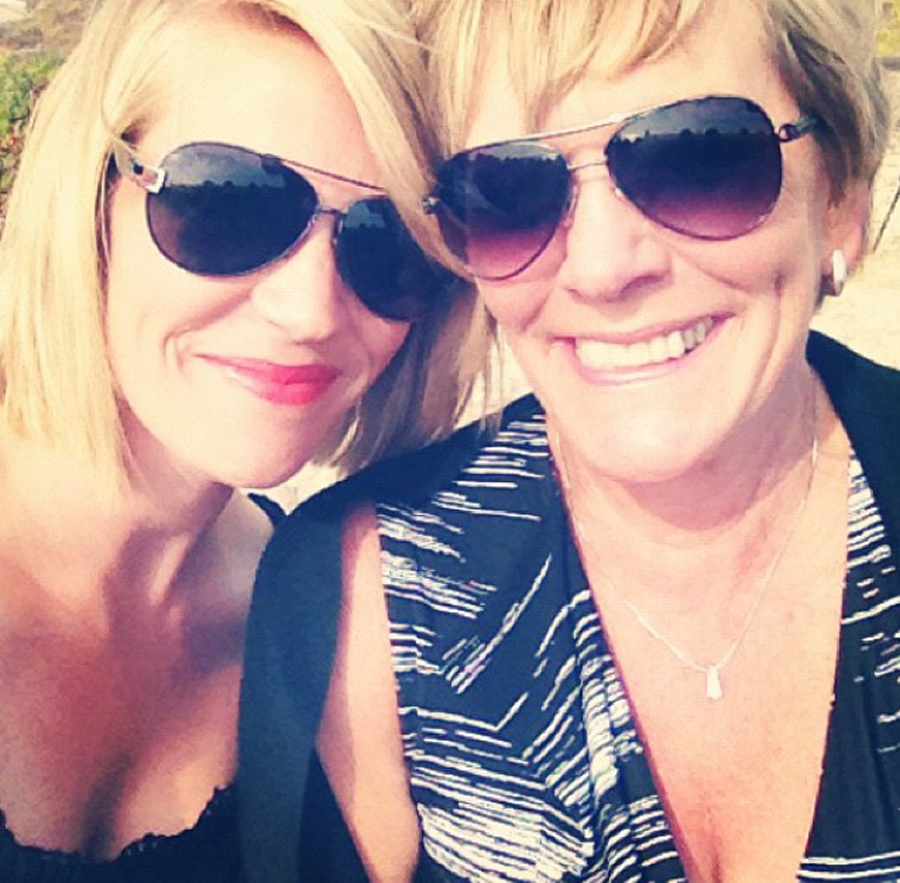 but I chose this picture of our feet because I remember that we got pedicures and the way our toes felt in that soft sand. The bride was barefoot, too (hell, EVERYONE was barefoot). And the flower pedals that lined the path of the aisle. So much more can be said in this image than the one where we're staring into the camera.
Do you agree?
Now I'm so curious as to what your home galleries look like… I think I may just have to have a contest of sorts… what you think, guys? : )
hope you're having a great weekend.