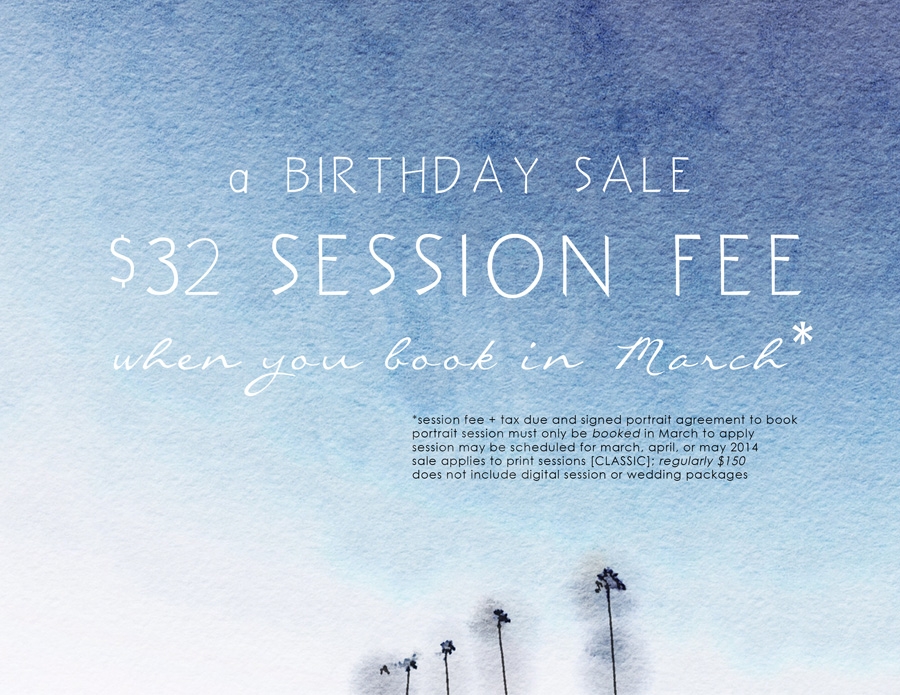 It's that time of year again when I turn another year older! My birthday is this Sunday and I'll be turning 32 years young… or the 4th anniversary of my 29th birthday. I really can't believe I'm in my 30s. I don't feel old, but I do feel like an 'adult' and I do cartwheels every time I get carded… which sadly only happens about 50% of the time now. *sigh* but cest la vive! it can't be helped.  So I'm having a sale! my birthday is in February, so not to confuse anyone, but this sale is for MARCH!
Simply schedule a session in March (studio or on location) and only pay $32 for your session fee. (regularly $150)
You may have your session in March, April, or May 2014.
All prints + product ordered through me and begin at $35.
Sale does not apply to any digital or wedding packages.
You are officially scheduled once I have your $32 +tax session fee and signed portrait agreement.
1 hour session; 1 outfit. No minimum order.
The weather will start to get very nice and you'll want to be outside to enjoy it. I'll be there to capture your carefree expressions while you frolic with the bunnies.
sessions are scheduled Wednesday-Saturday.
come hang out with me after I turn 32. I'll give you a piece of candy.